Concerts & Gig Guide
Find out what Concerts & Gigs are on in Hawke's Bay, Napier, Hastings, Central Hawke's Bay and Wairoa.
Arcee Rapper & Greta Bull: NZ Tour
Free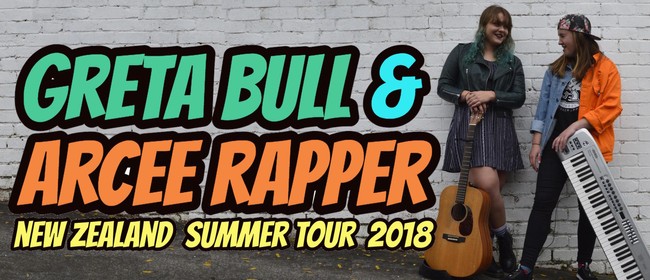 Arcee Rapper and Greta Bull embark on their first, joint headline tour, covering 10 cities over 4 weeks of sunshine. This half Kiwi, half British duo is making it their mission to redefine showmanship (or should I say show-womanship) and play you every genre you've never heard of.

Hailing from the south of everywhere, Dunedin. Greta Bull and her soultronic guitar met piano rapper Arcee and this summer these two insuppressible talents are warning you now this is not a show to be slept on.
When
Friday 23 February, 9:00pm to 12:00am
Cost
Where
Paisley Stage, Napier, Hawke's Bay / Gisborne
17 Carlyle Street, Napier, Hawke's Bay / Gisborne